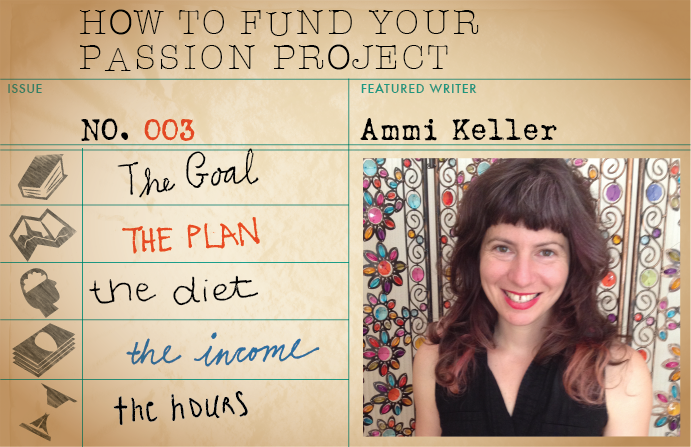 For ten years after college, Ammi Keller wrote steadily for 'zines but felt like she was failing at novel writing. At thirty, concerned about the practical matter of, oh, earning a living, she decided it was time to get pragmatic and go to school for physical therapy. On a whim, she also applied for the uber competitive Wallace Stegner Fellowship at Stanford. She'd never done an MFA and she hadn't applied for anything else. She just refused to get in debt for her art.
In 2008, Ammi became one of the five fiction recipients of the Stegner, an experience that equipped her with the basic techniques and source of income she now relies on to fund her passion project: a novel.
The Goal: Complete a fiction novel
I can't believe it's been like six years since I was awarded the Stegner. It really fucks me up.
I'm revising a novel in stories and right now, and I'm finding that pacing is challenging because it can feel like short storyness and novelness are at war. I'm also trying to use traditional storytelling elements to give the whole thing more of an arc, looking for scenes that can serve as the turning point in multiple characters lives, honing in on events that play out in later stories. It can feel unruly, but I'm starting to feel like it's going to work.
The Plan: Write every day until that stops working. And teach.
My process usually starts with a lot of freewriting. Then I think about where and how a story can be constructed. I ask myself, What is this scene? What does this character want–right here? What is this actually doing, on a functional level, if anything? At the same time, I obsess about language. The words are the world. If you get the words right, you get the world right.
The Diet: Travel, art, theory and literature
Travel helps me keep perspective. So do visual and performance art. I get a lot out of both. Visual art is exciting because unlike writing, you take it in in an instant. And performance art is so visceral. It's temporal and has narrative elements, or anti-narrative elements, but unlike writing its also over and done, and you're left with your own reactions. The same principles apply to any art and so what motivates me is coming into contact with what somebody has to say, seeing how they navigate the formal discipline they're working in. The decisions they make to balance saying something original against the constrictions of the form.
Reading is great too. I want to read a novel a week for the rest of my life! I like theory too, like work by Ann Cvetkovich and Gayatri Spivak. And poetry that's really rich in ideas, Claudia Rankine's especially. I saw her speak and she referenced at least a dozen theorists. I'm a very slow theory reader but I feel like if I make my way through that list, I'll have a pretty damned good foundation.
I also like work that pushes the bounds of genres, like recent memoirs by Anna Joy Springer and Lidia Yuknavitch. And speculative fiction that seems more real in this crazy world every day, by Octavia Butler and Samuel Delany, especially. God, once you get a person going about books… I just read and loved A Safe Girl to Love by Casey Plett, which made me feel like it was possible to see people who seem like people I know in literary short stories. And I'm currently reading I've Got a Time Bomb by Sybil Lamb, whose novel covers the same time period in post-Katrina New Orleans as my work does, but with a very different and awesome and freeing style and approach.
The Income: Teaching Creative Writing
Teaching Continuing Studies courses also really helps me with craft. Young people are like, "I want to express myself." Adults are like, "Tell me how to write a novel. How do you do a plot?" They made me very interested in how to isolate these skills so they can be practiced.
Whatever your weakness is, if you can become aware of it, you can turn it into a strength. Now I teach these classes where I get to study the things that make the engines of novels work–like conflict, unity of plot, dramatic structure, act structure. There's no rules, there's no single way to go about these things. But there are techniques. I was at a residency with a composer in his 60's. He said, "When you gain mastery, you know there's a solution to every problem. You may not have it—yet—but you know you'll be able to figure it out." I sometimes feel like fiction is thornier but maybe I haven't gained enough mastery over a variety of techniques. The idea of getting there is comforting because the more I learn and practice the less lost I feel.
The Hours
I teach about 20 hours a week, and its concentrated work. But like most people, I still find myself feeling like I have no time.
My new revelation, however, is that there's actually plenty of time! When I was living in New Orleans, I had shifts at a pizzeria where I was the bicycle delivery driver and the dishwasher at the same time—I was constantly moving, doing or putting away dishes when I wasn't on the bike, and that worked. So I sometimes try to apply the same approach to writing. But creative work's not like that. It really isn't about diligence or about gluing yourself to the desk for 40 hours a week or never doing nothing. It's about getting stuck and then getting unstuck.
The process is counterintuitive. You're missing something and you don't know what. You have to ask what you're preventing yourself from seeing. Because art is, essentially, making a puzzle for yourself and then solving it. So I think a lot about the stakes for the writer, not just stakes for the characters. When you get stuck, what does it mean to you? Because there's a reason you're stuck.
I started meditating and that has actually helped me concentrate better on writing. Also, I exercise four to five days a week because for me it's important to do something that's different from sitting and thinking.
And I try to write weekdays, in the morning, first thing. It takes me a while to start writing. It's embarrassing. I sit at my desk for an hour or two, then I get to the actual writing. Then I write anywhere from 30 minutes to 4 hours. Then I get hungry. And I eat lunch way too late and my head hurts because I'm hungry and I take way too long to eat lunch!
But I've cut out everything extraneous in my life that isn't really what's most important. For me, that means I don't do social media, except when the revolution starts happening! I know I'm missing out, but it's worth it. My life now is about reading, having interesting conversations, seeing as much art as I can, writing and getting into the woods.
Ammi Keller teaches creative writing at Stanford University and has been a writer of fiction and zines, as well as an editor in independent publishing. She is not checking Facebook. Not always. Nope.
Illustration by Pablo Sanchez. Design by Zaldy Serrano.