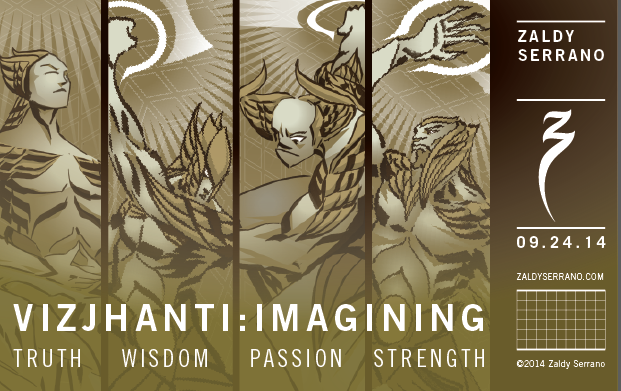 I was introduced to the Covey system by a creative director at my first design gig in Hawaii. I was drawn to its philosophy of prioritizing one's life, to nourish four core areas: the physical, emotional/social, mental and spiritual. Although I no longer practice the system's approach to time management, I still honor the four core areas, and also express them through Vizjhanti.
As I mentioned in one of my previous post, "Of Sirens and Muses," I submitted a written essay along with my application to CCAC (The California College of Arts and Crafts). This essay stated my intent to explore what Vizjhanti meant to me. It was broken down into four sections: body, heart, mind and soul. These four areas became a repeating meta-pattern my life. I nicknamed my move to the Bay Area "Project Oz," named after the film that inspired Vizjhanti. I viewed the four main characters in the The Wizard of Oz as embodiments of each area: The Lion represented body, the Tin Man longed for a heart, the Scarecrow wanted a brain, and Dorothy searched for a way home.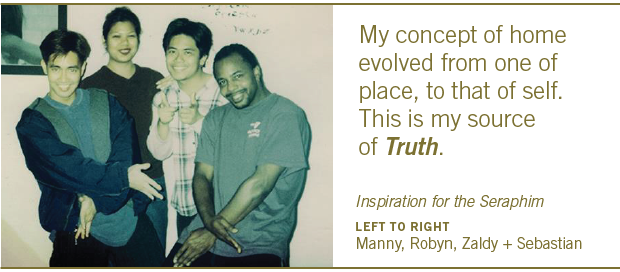 I moved to San Francisco with three of my friends, and we created a household in Richmond, California. I started imagining the four of us as personifications of these four areas. This directly inspired the Seraphim brothers in my story Vizjhanti. Manny was my constant gym partner. His integrity to uphold his values and principles is admirable. He represents Strength in body, as well as character. Sebastion and I always shared late night hours laboring over design projects. He was the extravert of the household. Sebastian's dedication to his craft and desire to be there for others, became a model for Passion. I personally value Wisdom gained from life experiences, over knowledge that is taught. I believe that this comes from the ability to immerse oneself in life, completely open to being transformed by each moment. Robyn's humility allows her to do just that. I initially planned on moving back home to Hawaii after one semester at CCAC. One semester eventually turned into sixteen years. My concept of home evolved from one of place, to that of self. This is my source of Truth.
This obsession with Vizjhanti  bleeds into every aspect of my life. It is a governing theme in my art, and a narrative that drives me to create a life with purpose and meaning. In this series, I will explore how these four areas give voice to my characters, and in turn, shape me. Hope you join me on this journey as I imagine Truth, Wisdom, Passion and Strength.
——————————————————————————————————————-
VIZJHANTI: ACT 1
Multi-media work by Zaldy Serrano
———————————————–
October 6 – November 28, 2014
Market Street Gallery
1554 Market Street, SF, CA 94102
———————————————–
#vizjhanti
#singyourtruth