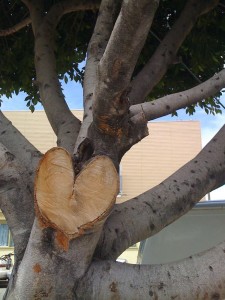 "Follow your heart." Asian Tiger Mom never says this to her beloved child who is only of course a Beethoven protege or the next Bill Gates. Most Asian kids are vehemently inculcated to follow their parents' wishes, if anything. However, this does not seem to apply to many Asians I've met who grew up in America but is certainly the case I dare say for much of Asia itself. Maybe it's just Bay Area Asians, who much like majority of the populace here dare to defy the norms of society.
Perhaps it's just a difference in cultural beliefs of Eastern and Western philosophies. No matter the case, I have found it rather difficult to figure out exactly what the heck kind of bliss I would follow after being brainwashed to think in a certain way. Duty. Responsibility. God forbid, filial piety. Amen. Being happy or joyful was never part of the equation in what I was encouraged to become as an adult. (I hope my mom is not reading this as she'd be very insulted for having called her child rearing philosophy a brainwash.  Sorry, Mi!)
Bliss is ultimately what drew me to yoga. The more I practiced, the deeper I got into learning about this ancient practice beyond the physical poses. And the more I saw how yoga is about getting in touch with my heart – to follow my bliss.
Yoga in sanskrit means to…
yoke – to bring union.

To bring life out of one's shell.

To become alive.

To unite with the fire deep within us and connect that with the reality of our daily lives.
For me, it was like a process of peeling an onion, a very old dried out one, to uncover what laid at the core. Thankfully, it wasn't just fungus.
I've learned through yoga and meditation that it takes a lot of quiet time to listen in to my own heart. After being in publishing sales for over a decade, where a gift of the gab saved my sorry arse once too often, I ended up in a ten day silent meditation retreat in the jungles of central Thailand. I figured it was one way to tune out the world. While this may seem exotic to many Westerners, thoughts of going into a backward way of life crossed my mind many times. But it was the silence I was coming for, so I had to erase even those judging thoughts from my head. Having been oriented to see life from the outside and "heed my elders" whether family, friends, coworkers or society at large, it's been a major project – an ongoing one – to learn to listen to my own heart.
Whether it is on my yoga mat or while traveling in foreign places or in the jungle, it is a constant practice to feel into each moment if I'm following my bliss. Take pause. That's been an immense change in my lifestyle and thought patterns.
To just take a moment longer before I react or respond. And to take time for myself, not just to be alone but to do things that are purposefully to take care of myself. And notice each breath. It's the best way to connect with what your body, your inner wisdom is saying. These are some of the ways I've learned to follow my heart.
How about you?  What is your bliss?