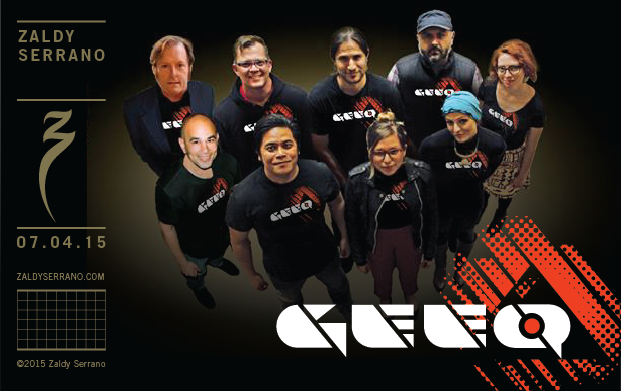 It was the moment of truth: Wednesday, June 17. My GEEQ podcast teammates and I patiently waited in the atrium during our all-staff meeting to hear who had won KQED's podcast co-opetition. Two months prior, KQED had put a call-out to staff to generate the next podcast idea. From 19 submissions, our GEEQ podcast was one of six that had made it to the finals.
Two months of intense research and ideation had culminated to this moment. We were feeling good about our chances. In dramatic fashion, KQED announced the winner.
GEEQ wasn't called.
But KQED hit us with a second announcement. They would support three more podcasts through another round of R+D to develop proofs-of-concepts. My hopes rose again. I felt in my gut that GEEQ had a strong shot. There I was, proudly wearing my GEEQ t-shirt, waiting to accept the consolation prize. One by one, they announced the winning teams. And each time, GEEQ failed to make the list.
That second announcement hurt the most. Not only did we lose the co-opetition but it filled me with doubt. It was demoralizing. All the winning teams were standing up and celebrating. It broke my heart to see the look on my team's faces. We were all in shock. I personally felt responsible for the loss. I was fighting the feeling of letting my team down, if only for a moment. I wanted to console them and congratulate the winning teams. The hope of moving forward slowly began to unravel. We had poured so much of ourselves into this project. A void swelled within me as I recounted all the moments that had led us to this day.
Two months ago, when I learned that KQED was initiating a podcast co-opetition, I quickly jumped on the opportunity to further my "Sing Your Truth" agenda. This is the idea that we express our potential through our passions. The first thought in my head was, "How about a podcast on geeks?" I put a call-out to fellow geeks in the building to see who would be interested. I presented the idea: GEEQ with a "Q" to honor KQED's mission of helping our members achieve their full potential. At our first meeting, we fellow geeks naturally began sharing what we individually GEEQ'd out on. The topics were diverse, ranging from film and comic books to alien technology. It was amazing to learn something new about my colleagues through this perspective. GEEQ became a window into their lives. As with everything I do in life, I used this as another opportunity to share Vizjhanti.
In the beginning, our individual obsessions brought us together. We created a space where we could be excited and inspired, to embrace who we are and what we love. Above all, we wanted to explore what connects us all. We wanted to hear stories about the feelings and experiences we all share as we pursue our passions. This is what gave us purpose as a team.
On this Wednesday following the announcement of the winners, I finally gained the composure to stand up to console my team. After every hug, each one stated that they were not ready to give up. Through the shock and disappointment, we recognized the spark that was still in us. I immediately felt reinvigorated and grasped onto that remaining strand of hope. It was at this moment that I realized that GEEQ had grown into an idea that would live beyond the co-opetition. This thought was further validated in our debrief with two of our co-opetition advisors. They expressed their continued faith in the idea and its potential to address diversity and nurture new audiences. We were also the second, most-voted staff favorite.  They told us that we fell short with the content of our actual podcast. They were concerned that we wouldn't be able to sustain our as a series. We humbly embraced the critical feedback. We were fortunate to have had the time with our advisers to address this issue. It has certainly helped us to move forward. Though our advisers were encouraging with our intent to continue GEEQ, they did not want to give us any false expectations. There are no resources to carry a fourth team and for the moment KQED could not find us a home in one of our content areas.
Our advisers wanted to emphasize that we no longer had to adhere to the parameters of a podcast. The thought that GEEQ could manifest through another medium excited me most.

Moving Forward
Once marginalized, geeks have found a way to seep into mainstream culture. I believe that our current circumstances enable us to truly thrive. Well, at least that is the narrative I'm telling myself. It makes for a better story that is in tune with GEEQ, and one that aligns with my personal narratives in Vizjhanti and Conzpire. We'll embrace the traditional geek archetypes of the Underdog, Outcast and Dreamer.
We are a team of passionate individuals who honored each other's strengths to form a common vision. Our bond was forged in a crucible of emotional highs and lows. The loss in the competition helped to distill the project down to what is fundamentally important to us as a team: our mission. We want to expand the idea of GEEQ to embrace all of us who have passionate pursuits and we want to continue this venture together. We may not have a home, but we have each other.
Edited by Mei Li Ooi