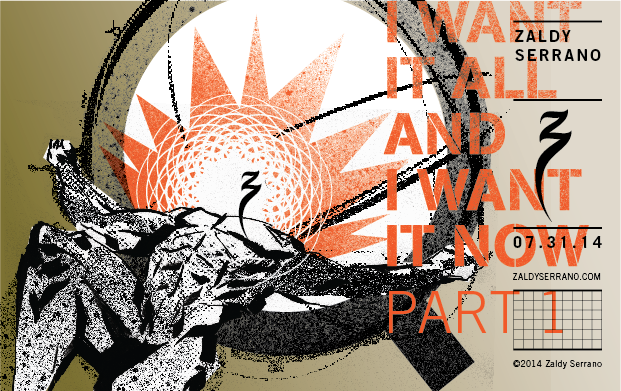 When your work is your calling, how do you pursue another passion in life?
In this growing trend of leaving the daily grind to follow your life's passion, I wonder if there are those of you who are like me. I have what many call a "day job" as an art director for KQED. Between work hours, social events and maintaining my well being, I find pockets of time to work on my passion project, Vizjhanti. I'll be honest, at times it can be challenging. Doubt often slithers in, and I question if it's realistic to keep up both pursuits. I'm not willing to make concessions between what fulfills me, and bringing my childhood dream to life. I Want It All and I want it now.
Vizjhanti has always been on the back burner. Throughout the years there have been spurts of growth, but I never fulfilled my dream of completing my Vizjhanti graphic novel. This year, I'm attempting to do just that. And, to hold me to this intent, I have a solo art show scheduled in October, which I've committed to presenting the first act. I'm excited and nervous. Can I pull this off? Where will I find the time? Will I be sacrificing time with friends and family? Will my role at KQED burn away the creative drive from telling my story?
In this series, I will be addressing three systems that I'm implementing to help me maintain balance:
Part 1: Draw inspiration from KQED to nurture Vizjhanti.
Part 2: Set clear deadlines and a production schedule.
Part 3: Stay active with support groups.
KQED gives me meaning and purpose, so how does Vizjhanti fit into the story?
While attending CCAC, and pushing Vizjhanti through my class projects, I came across a program entitled The Power of Myth.  This was a program that featured Bill Moyer's interview with Joseph Campbell regarding myth-making traditions. I was inspired by how the myths we share, shape our culture and world view. Through the The Power of Myth, I gained deeper insight into Carl Jung's concepts of archetypes. I also loved that George Lucas considered Joseph as a mentor who helped inspire Star Wars. All my interests were meeting at an intersection, which opened up the world to me. The station that aired the program, KQED. It was my first introduction to the Bay Area's public broadcast station.
In 2003, I was working for Tenazas Design. Our studio provided design solutions for Active Voice, a non-profit that tackles social issues through the creative use of film. I remember meeting with the Active Voice team who coincidentally were tenants at KQED. I fell in love with Active Voice's mission, and quickly realized that they reflected KQED's culture and values to serve Bay Area communities. On our way out of the meeting, the CEO of Active Voice shared how the architecture of the KQED building symbolized a ship. I loved this metaphor, and how it captured the idea of exploration.
In 2004, I transitioned from full-time employment to part-time contract with Tenazas Design to begin my own practice. With a handful of clients including Active Voice, I was forging ahead continuing what I loved to do. One year later, out of happenstance, I came across a job-posting from KQED looking to hire an art director. I was blessed to have been chosen for this position. When our current CEO, John Boland, left KQED back in 2006, he said that KQED will always be his home. It was more than a job, it was his calling. This reflects how I feel about my place at the "Q". KQED was a beacon for me, a calling that I engage with till this day.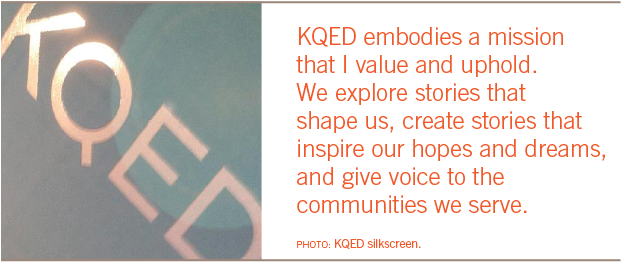 KQED, My Creative Well(being)
My role as art director for KQED, allows me to hone in on technical and artistic skills, that I directly utilize in the production of Vizjhanti. Aside from the technical aspects of art and design, KQED embodies a mission that I value and uphold. We explore stories that shape us, create stories that inspire our hopes and dreams, and give voice to the communities we serve. I hope to express this through Vizjhanti's  mission:  "Sing Your Truth."
Edited by Mei Li Ooi