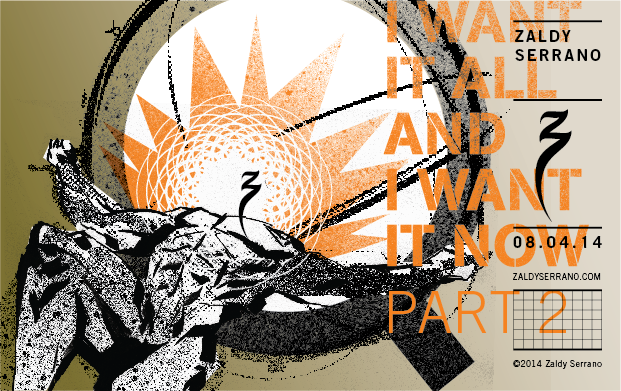 Being in a committed relationship with my deadline.
Keeping motivated with my passion project is a challenge, especially with my full-time job at KQED. Something that motivates me is participating in arts shows. In the past five years, I've done three group art shows, varying in scale from a bar venue to a dedicated art gallery.  I'm far from being able to say I'm a veteran to this scene. In each case, I've been overcome with anxiety. But I've always had the comfort of knowing that I had my fellow artists to rely on, to share the burden. These art shows provided me an outlet to showcase Vizjhanti themed art, from posters to skateboards. After my last show, my friend Robert Vo, invited me to do a show at Market Street Gallery. The catch: it's a solo art show. I accepted with excitement and apprehension. I love the idea of having a show of my own but I'm terrified that I won't have my fellow artists to help carry the weight. I told my fellow Conzpirator Mei Li about the great news. I also mentioned that I would probably develop new pieces for the show. She was excited  for me, but posed a challenge…
Before I continue, here's a little backstory. Mei Li and I have known each other for almost eight years now. She's heard me speak about Vizjhanti and my repeated promises of creating a graphic novel. Mei Li has invested personal time, supporting and contributing her storytelling prowess to helping me develop the narrative. After all these years, I have had nothing to show for it. That's right. No graphic novel. Just a lot of talk and dreams. So her challenge? Stop wasting time and produce the f'n novel already!
What better way to motivate myself to follow through and push me beyond my comfort level? Give me a solo show and a real deadline to finally present Vizjhanti: Act 1.
Countdown to The Show
Having a clear deadline and setting a production schedule, places a tangible finish line for me to treat and respect Vizjhanti as an actual project. My production schedule is broken down by phases and checkpoints. The time frame is quite ambitious, but it includes a  three week buffer to account for unexpected circumstances. Also on the schedule are auxiliary pieces for the show, which  includes an animated trailer, video installation, mural and banner signage. I shared my schedule with my fellow Conzpirators to keep me "motivated" (yup, accountable). And here it is for all of you to see:
———————————————————————————————-
Graphic Novel / Phase 1
June 29
Artist statement + Complete First Draft  (36 pages)
Mural + Window Banners / Phase 1
June 29
Concept Thumbnail Concept
Video / Installation
August 10:
Refine Vizjhanti Trailer and The Ballad of Mother Aria + Father Book
Mural + Window Banners / Phase 2
September 16
Files to printer
Graphic Novel / Phase 2
September 16
Files to printer
Final Show Prep + Opening
September 20
Final Submission + Check-in with Rob
September 20 – October 5
Final A/V check w/ animations  Run through space with pieces Final Prep
October 5, 10 AM
Hang day
October 8 (Tentative)
Special Blood Moon (lunar eclipse) Preview Reception.
October 11,  6 PM – 8 PM
Opening Reception

This is my first foray producing a graphic novel. I confess, I dove in with tons of ambition, and with an expected naivete. As an artist, I have a natural tendency to want to dwell in the creative process. I especially savor the phase of developing my personal style. But the designer in me is hyper aware of the deadline, and is willing to make concessions to meet it. I had to prioritize my expectations. My main objective remains completing the graphic novel. I've extended certain benchmarks in it's production, and offset them by pulling back on other deliverables. Rather than refining an existing trailer that I have, I will be utilizing it as is. I'm also streamlining the animation of the Mother Aria and Father Book video installation. I'll be utilizing more of a slide show presentation and potentially adding some animated effects later, if there is time before the art show's opening reception. I also originally planned to have a giant mural fill an entire wall of the gallery. My good friend Alvin came up with the great idea of utilizing my concept drawings to present as a process board to complement the finished product.
My deadline has been an ideal partner.  A yin to my creative yang. Setting clear expectations and willing to make compromises toward a common vision help me maintain a successful relationship with my deadline.
Edited by Mei Li Ooi