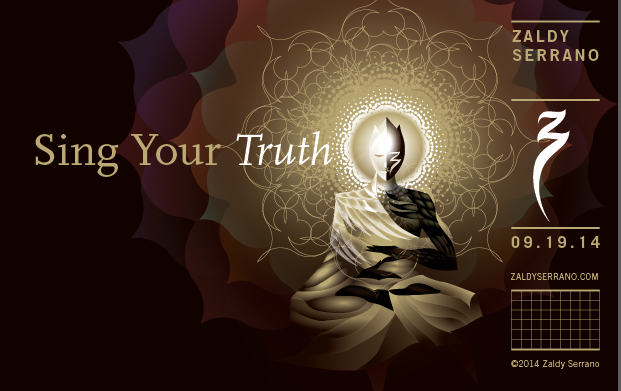 Sing Your Truth
Building up to my art show, I head over to my neighborhood Starbucks to work on my Vizjhanti graphic novel. After picking up my order, I set my grande tea on a table and begin pulling out the contents from my backpack. First my tin container, then the spiral bound sketchbooks with all my references, and finally my computer. With my computer powered up, I plug in my headphones and dial into my favorite Spotify channel. I pull out my favorite pen and attempt to draw the days assigned panels. As usual, it's a slow start. I hesitate as I struggle to set my hands free. The idea of perfection stalls me. I finally get into a flow and pump out panel after panel. While in the groove, someone draws my attention. I look up and recognize my fellow KQED staff member, Birrel. I pull the headphones from my ears and Birrell starts to comment on the art work that I've spread across the table. He loves the lyrical quality of the shapes and forms that compose my visual signature.

Our conversation shifts from the art to the intent. I explain that I'm creating a graphic novel and give him my pitch: "It's a story about a hero named Truth, and his adventure to save the remaining mysteries in the world." This intrigues Birrell as he begins citing philosophical references that he feels might inspire me more. With the time and emotional investment Birrel has shown, I'm compelled to tell him the whole story. I finally reveal the ending, which places Birrell in a sense of awe. After a brief pause of silence, Birrell tells me that the story has mythic resonance and that it needs to be told. I share my concerns and insecurities, but he reassures me that it really isn't up to me anymore. I am merely the messenger channeling a deeper truth. I find myself quite drawn to this notion. Reassured and inspired from Birrell's insights, I continue with my devotion to Vizjhanti.
Wayne Dyer once said, "Do not die with your music still in you." I've held this story within for so long. Now I'm cherishing every moment to sing my truth.
What is your song?
Edited by Mei Li Ooi
——————————————————————————————————————-
VIZJHANTI: ACT 1
Multi-media work by Zaldy Serrano
———————————————–
Opening Reception: October 18
Show runs October 6 – November 28, 2014
Market Street Gallery
1554 Market Street, SF, CA 94102
———————————————–
#singyourtruth