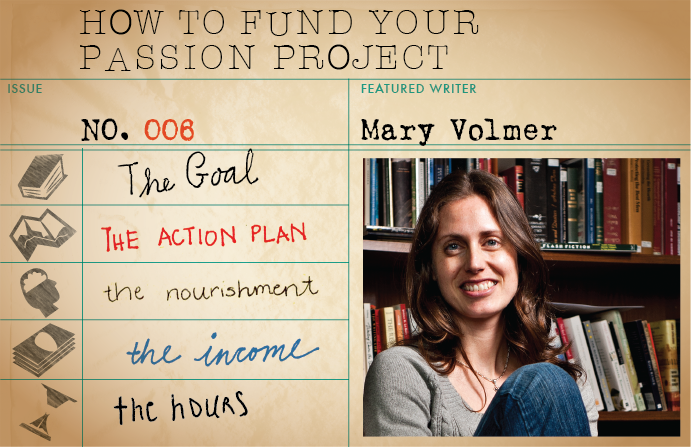 Have you ever thought you'd figured out the formula to success only to get crazy stuck right after? Mary Volmer hit that sweet spot all of us writers hope to arrive at when she published her first novel, Crown of Dust. But when it came to the second one, she hit a roadblock.
Sound familiar?
"Looking back, I think I suffered a failure of faith rather than a failure of the work itself," Mary says.
Talking to Mary, I learned that success is not a fixed point. You can arrive at it. You can think you've created a map to its location. Then, like some mythic city, success can vanish from the face of the earth. When you're stuck in your sophomore efforts, what do you do?
Here, Mary tells me what she did to recover that faith and complete her passion project.
The Goal
With my first novel, I learned how to write. With my second, I learned what stories I need to write. In Reliance, Illinois, I felt a larger sense of duty to the women who'd been forgotten and to the stories that had been lost in the popular histories.
I want to give voice to people who haven't had a voice in the past. I want to write stories that have value beyond me, that move and touch people, maybe teach them something they didn't know.
Still, my second novel took roughly seven years to write. The first five of those years I spent mostly failing. It was a shock since the first novel came so quickly. The second book is far more ambitious and I didn't initially have the skills I needed to tell it as well as I wanted to. I didn't know if I ever would.
The Action Plan: Fear, Imperfection, and Time
I got pregnant and it lit a fire in me. I was afraid, once the baby came, that I'd never finish. So I stopped trying to make every chapter perfect and I wrote twenty-three chapters in nine months. I revised over the next two years. There's something to be said for a deadline!
I finished a solid first draft a month before my son was born. After giving birth, I wasn't sleeping much and my brain was in slow motion. The result was a really messy second draft. And my agent told me this. So I let it sit.
While I let it sit, I worked on the next book. By the time I came back to Reliance, Illinois a few months later, my son was sleeping most of the night and I had a whole brain again. I could hear the characters speaking and see the shape of the story clearly. Time away helped me see the difference between interesting facts and details necessary to a story.
The Money
I teach. I love teaching. But I don't teach enough to make up for the salary I lost after stepping down as Founding Director of the Honors Program at St. Mary's College. I'm lucky enough to have a husband who supports this strange writing obsession and we live very simply. He's a Math Professor at St. Mary's and we live with our son and a pretty amazing community of students in a small apartment in the residence halls, so we don't have a mortgage.
The Nourishment
Since stepping down from the Honors Program, I've been lucky enough to teach a few undergraduate creative writing class. This past spring I taught a graduate workshop for the first time, which was an absolute thrill. I still find it hard to believe someone paid me to do it!
Teaching helps me loosen up about my own work. It forces me to think carefully about story and dramatic structure. What is it that keeps people reading? What kinds of stories do I want to tell? It's exciting to see the work students produce. And to help them find a shape for the stories that call to them. I was ready to write every time I left the classroom.
The Hours
I'm still trying to figure out how to measure my productivity. It takes me a long time to get from scene to scene, even if I know where I'm going. I'm always asking myself, Am I getting enough done in the time that I have? It would be really nice to use word count as a gauge and a lot of writers do that. But I write upwards of 500 words a day. That's not the issue. The issue is: how many of those words drive the story forward? How many of those words have value?
Richard Bausch says to ask yourself: "Have you worked today?" And if the answer is, "Yes," then you've been productive.
So I measure time working. And that time means I don't check my phone, email or Facebook. I try to do two, two-hour chunks in a day. Back when I was breastfeeding, I would be up at 4:00 a.m. By 8:00 a.m., I would try to enter the writing space. There's something to be said for being exhausted—you're not quite as critical!
During the school year, I teach afternoons or evenings. I usually only manage one, two-hour chunk of writing before I have to, you know, plan a lesson, head to class, pick up my son, do the grocery shopping. Before life takes over. But I'm lucky to have that time.
Have you been in Mary's position? Or felt jinxed after your first taste of success? What did you do that worked?