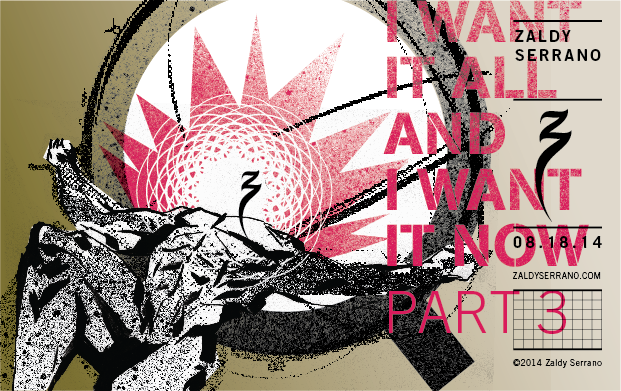 Strength in numbers
Balancing time between KQED and Vizjhanti could place me in a solitary rut. With the limited hours to spare on both pursuits, it could be a challenge to maintain a healthy social lifestyle. Don't get me wrong, I could easily play the role of the reclusive artist. I am naturally introverted. I remember a parent-teacher meeting back in grade school. My teacher explained to my parents that I was a very shy kid but was able to use my art to connect with my fellow students. All the way through my junior year in high school, I sported the stereotypical nerd look: glasses, braces and bowl-cut hairstyle. This, coupled with my awkward, shy demeanor, meant that isolation was an inevitable conclusion. But art became my means of reaching out and being accepted by my peers. This experience shaped the symbiotic relationship between my introverted art practice and my use of art to connect to those around me.

space
These days, I could feel alone at times, believing that I'm the only one struggling to realize my childhood dreams. Luckily, I've found strength in numbers from the groups below.
Conzpire
What started out as a group of friends sharing life aspirations over dinner has evolved into a mastermind group where we hold each other accountable to fulfilling our individual dreams. My fellow conzpirators Mei Li, Magi and Pablo provide me with support and inspiration. We have our regular, weekly meet-ups where we continue our dialogue and create a synergistic space to practice our "art."
The Rising Tide Sketch Krew
The Rising Tide Sketch Krew (RTSK), initiated by Michael Sacramento, has been a great source for social engagement and artistic endeavors. The group is composed of diverse individuals, ranging from full-time artists to those who, like me, balance full-time work with an art practice. We do various social activities that involve our sketchbooks. What I love about RTSK is that we often find ourselves sketching in public spaces, such as bars, restaurants and airport terminals. A monthly dose of RTSK provides me the chance to connect to fellow artists and explore the world around me through my art.
Mission: Comics – Creator Meetup
I'm extremely fortunate to have come across Leef Smith at Mission Comics and Art. Leef's space is a comic book store and art gallery that supports local artists. In addition to the space, Leef organizes meet-ups for aspiring comic book creators. These events provide me with industry knowledge, art techniques and overall inspiration. It's been a great place to network with fellow comic book creators, both aspiring and published.
From thoughts to words to actions
Staying active in these support groups not only allows me to practice my art but also fulfills my need for social engagement. My art is a journey that allows me to discover and connect with those around me.
In addition, I imagine "reality" as an illusion that a majority agrees to. In that sense, there is strength in numbers when attempting to make a dream (delusion) more tangible. I'm blessed to be amongst individuals who share one vision that art is integral to overall wellbeing.